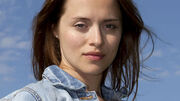 Background
Anya was a doctor in a busy city hospital when the virus struck, and watched hundreds of patients die of the virus, including her friend Jenny Walsh.
Relationship with Tom
Series One
After helping a severely wounded Tom, she joins the group. In an internal struggle to rationalise why she has survived, she rejects her medical profession. She discloses that she blames herself for having been too inexperienced to save any of her patients, particularly Patricia, her former lover. With the encouragement of Abby, she composes herself, and goes on to successfully deliver a breech birth.
Series Two
Anya finds herself trapped in the rubble with Al in the opening episode of the series as Tom races to rescue her. As the series develops, Anya and Tom's mutual attraction becomes an increasing dilemma for her - can she reconcile her feelings for him with her sexuality? And if so, can she open up and trust a man whose cold menace and hidden past frighten her?
Zoe Tapper
Zoe Tapper (born 1981 in Bromley, South East London)[1] is a British actress who first came to prominence playing Nell Gwynne in Richard Eyre's award-winning film Stage Beauty in 2004. She is known for portraying Anya Raczynski in Survivors and Mina Harker in Demons.
On stage Tapper has appeared in Epitaph for George Dillon in the West End, and Othello at Shakespeare's Globe.
Following her film debut in Stage Beauty, Tapper played Gwendolyn in Mrs. Palfrey at the Claremont (2005), alongside Joan Plowright, and Diana Shaw in These Foolish Things (2006), alongside Anjelica Huston.
Her television credits include Mary Collins in A Harlot's Progress for Channel 4, Jane in Oliver Parker's The Private Life of Samuel Pepys, Gemma in the first series of the Sky One drama Hex and Jenny Maple in the BBC miniseries 20,000 Streets Under the Sky. She also played Hermia in ShakespeaRe-Told: A Midsummer Night's Dream, the 2005 BBC adaptation/modernisation of Shakespeare's play of the same name.
In 2008 Tapper portrayed Sheila Steafel in the BBC television play The Curse of Steptoe and Anya Raczynski in the BBC remake of Survivors, alongside Max Beesley, Paterson Joseph and Julie Graham. She also played Selina Dawes in the ITV1 adaptation of the novel Affinity, opposite Anna Madeley as Margaret Prior. It premiered at the Miami Gay & Lesbian Film Festival, and in the UK on Sunday 28 December 2008 on ITV1.
In 2009 Tapper appeared in the ITV1 fantasy drama series Demons as blind vampire-turned-monster hunter Mina Harker.[2]. She also plays Effie Gray in the BBC Two period drama Desperate Romantics.
Community content is available under
CC-BY-SA
unless otherwise noted.