This article is written from the real world point of view.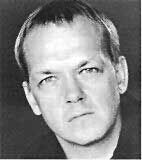 Christopher Fulford (born 1955 in London) is a British actor who is best known for his supporting roles in many British TV shows.
He has featured in the films D-Tox (2002), Millions (2004) and Pierrepoint (2005) and the television dramas The Last Train and Deceit. He has also appeared extensively on British television, appearing in guest roles in episodes of series such as Cracker, Prime Suspect, Dalziel and Pascoe, Spooks, Judge John Deed and Waking the Dead. He recently appeared in the ITV1 dramas Whitechapel and Collision, both alongside Phil Davis.
Christopher married actress Camille Coduri (who is known for playing Rose Tyler's Mum, Jackie Tyler in Doctor Who) in 1992. They have two children, Rosa (born 1993) and Santino (born 1996). [1]
External Links
[
]