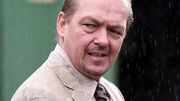 Smithson was a Professor of Classics at Oxford before the virus hit. Now he runs a coal mining operation with a workforce of slaves. He and his overseers are stakeholders in the mine, and when winter comes his profits will surely begin rolling in. When
Greg
and
Tom
are taken prisoner, Greg has a plan to get out. He pretends to know a lot about coal mines, but Greg is caught along with the rest of the Family. When Tom comes and rescues them, the Coal Miners go wild on the staff. A slave is kicking and punching Henry Smithson. Henry is shouting "WE NEED CONTROL! YOU'LL STARVE NOW!"
It is unknown what happens to Mr Smithson after the 3rd episode. He was probably killed by the Coal Miners.
Christopher Fulford
Christopher Fulford (born 1955 in London) is a British actor who is best known for his supporting roles in many British TV shows.
He has featured in the films D-Tox (2002), Millions (2004) and Pierrepoint (2005) and the television dramas The Last Train and Deceit. He has also appeared extensively on British television, appearing in guest roles in episodes of series such as Cracker, Prime Suspect, Dalziel and Pascoe, Spooks, Judge John Deed and Waking the Dead. He recently appeared in the ITV1 dramas Whitechapel and Collision, both alongside Phil Davis.
Christopher married actress Camille Coduri in 1992. They have two children, Rosa (born 1993) and Santino (born 1996). [1]
Community content is available under
CC-BY-SA
unless otherwise noted.