This article is written from the real world point of view.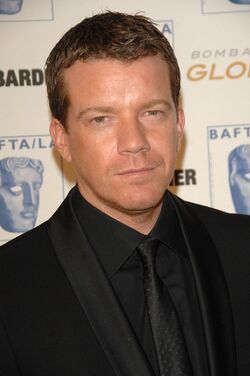 Maxton Gig Beesley Jr. (known simply as Max Beesley; born 16 April 1971) is an English Actor and musician who played Tom Price in Survivors.
Beesley came to prominence with his first major acting role in The History of Tom Jones, a Foundling, a 1997 television mini-series based on the book of the same name.
He has starred in numerous roles both in the United Kingdom and the United States since this breakout role. In 2001, Beesley appeared opposite singer Mariah Carey in the film Glitter, a critical and commercial failure for which he was nominated for a Golden Raspberry Award for Worst Supporting Actor and opposite Selma Blair in the film Kill Me Later. In Britain, he is best known as the star of the BBC Three medical drama Bodies, which broadcast from 2004-2007. He also starred in BBC One series Hotel Babylon from 2006 until 2008. He left the show in the episode Under Pressure aired on BBC One on 18 March 2008, riding off into the sunset on a Harley Davidson. He returned for a guest appearance in episode 3 of series 4.
On 28 October 2006 Beesley appeared as a special guest playing piano for James Brown during his performance at The Roundhouse in London as part of the BBC's Electric Proms festival.
On June 2007, he starred in an ITV four parter called Talk to Me written by Danny Brocklehurst. Beesley also appears opposite Malcolm McDowell in the film Red Roses and Petrol.
Beesley has also appeared in a five-part BBC thriller, The Last Enemy, also starring Robert Carlyle.
In September 2007 Beesley was a guest on ITV's Ant & Dec Saturday Night Takeaway, where he and Jonathan Wilkes were successful against the duo in the lighthearted competition Beat The Boys, narrated by Stuart Hall.
From October 2008, he appeared in the jobsite.co.uk television commercials.
In 2008, he appeared in the remake of the 1970s classic drama Survivors on BBC1. The series consisted of six episodes, with a second series being transmitted in January 2010.
Beesley is also a musician, having had a successful career before becoming an actor. He was a Chorister at Manchester Cathedral and studied at Chetham's School of Music. He also studied percussion at the Guildhall School of Music & Drama with soul singer Omar ("There's Nothing Like This") and toured with the Brand New Heavies on keyboards and percussion. He also is a Vibraphone player. He has performed in concert as a percussionist and pianist for Robbie Williams, Take That and The Paul Weller Movement. Beesley played percussion and piano at Robbie Williams's Knebworth gigs of Summer 2003 and at Hyde Park, for Live 8 London. Robbie Williams's first concert of his Close Encounters tour in Perth, Western Australia on November 30, 2006 saw Max Beesley as percussionist for the second half of the show. He also played drums during the performance of Rudebox at Robbie's second Brisbane concert and during the recent BBC electric proms show. Max Beesley was also a member of the jazz band Incognito and after an eight month tour with them, decided to end his music career and start in acting.
Personal Life
Edit
Beesley was born to Maxton Beesley, a professional jazz drummer, and a jazz singer mother, who sang under the stage name Chris Marlowe. His parents divorced when he was a baby. His middle name was inspired by the US actor Gig Young. His father was also a regular guest on the Ted Rogers show 321, doing impressions amidst the sketches.
Max has a stepbrother, actor Jason Milligan, who is the husband of former Coronation Street and Cutting It actress Angela Griffin.
External Links
Edit
Community content is available under
CC-BY-SA
unless otherwise noted.