This article is written from the real world point of view.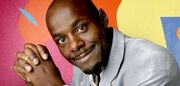 Paterson Joseph (born 22 June 1964) is a British actor.
Born in London, Joseph trained at the London Academy of Music and Dramatic Art (LAMDA). In recent years he has had a high number of roles in continuing British television programmes, both drama and comedy. These include Reuben in William and Mary alongside Martin Clunes; Mark Grace in Casualty; the Marquis de Carabas in Neverwhere; Alan Johnson in Peep Show; Lyndon Jones in Green Wing and Shorty in the first episode of Jericho.
He also appeared in the acclaimed drama Sex Traffic, in the TV version of Kwame Kwei-Armah's acclaimed play Elmina's Kitchen and in the Doctor Who episodes "Bad Wolf" and "The Parting of the Ways" as Rodrick. He has also appeared in various supporting roles in Dead Ringers.[1] In 2006 he appeared in the television sketch show That Mitchell and Webb Look where he played Simon, a contestant on the game show Numberwang.[2]
He appeared as Keaty in the Hollywood film The Beach alongside Leonardo DiCaprio and starred as Giroux alongside Charlize Theron and Peter Clarke in Paramount Pictures' Æon Flux.
Joseph played Space Marshall Clarke in two series of the BBC sci-fi sitcom Hyperdrive, and was Benjamin Maddox in the BBC serial-drama Jekyll. He also provided the voice of K.O. Joe in Chop Socky Chooks.
In 2008 he played Greg Preston in Survivors, the BBC remake of the 70s science fiction drama of the same name.
Joseph provided the narration for the National Geographic series 'Wild Russia' in 2009.
Joseph's theatre credits include the title role in Othello, as well as parts in Henry IV, King Lear, and Hamlet for a performance in New York City.[2] In 2004 he undertook a project, filmed for Channel 4 in a documentary entitled My Shakespeare, to direct a version of Romeo & Juliet, using 20 young non-actors from the deprived Harlesden area of London.[3] In 2006, he became a patron of OffWestEnd.com, a listings site for theatre outside the mainstream.[4] His more recent stage appearances include the leads in The Royal Hunt of the Sun and The Emperor Jones at the Olivier Theatre, London.[5][6]
Joseph lives in France and is married with one son.[7] He was a chef before becoming an actor.[8]
Films Joseph has appeared in.
1993 - In the Name of the Father Benbay
2000 - The Long Run Gasa/The Beach Keaty/Greenfingers Jimmy
2004 - The Baby Juice Express Sean Boetang
2005 - Æon Flux Giroux
TV Shows Joseph has appeared in.
1992 - Between the Lines Sgt. Viv Jones Episode "Words of Advice"
1994 - Soldier Soldier Fusilier Eddie Nelson Episode "Changing the Guard"
1994-1998 - Casualty Michael
Mark Grace Appeared in the 1994 episode "Hidden Agendas" as Michael Joined main cast in 1997 as Mark Grace appearing from "Give my Love to Esme" to "New Year and All That".
1996 - Neverwhere Marquis de Carabas Appeared in all six episodes
2000 - Safe as Houses Gabriel
2001 - Armadillo Alan/Now You See Her Mark/Cold Feet Suggs Episodes 4.5 and 4.6
2002 - Waking the Dead Dermot Sullivan Episode "Life Sentence: Part 1"
Silent Witness Sergeant Terry Harding Episode "The Fall Out", parts 1 and 2 2003 Loving You Felix Fisher A Touch of Frost Colin Stokes Episode "Close Encounters"
2003-2005 William and Mary Reuben Appeared in ten episodes
2003- Peep Show Alan Johnson Has appeared in 11 episodes
2004 Murphy's Law Dr. Mark Maddison Episode "The Group" Sex Traffic/My Dad's the Prime Minister Detective Gary McRyan Appeared in six episodes
2004-2006 Green Wing Lyndon Jones Appeared in nine episodes
2005 Dalziel and Pascoe Alisdair Collinson Episode "Heads You Lose", parts 1 and 2/Elmina's Kitchen Deli/Doctor Who Rodrick Episodes "Bad Wolf" and "The Parting of the Ways"/Rose and Maloney Harry Callaghan Episode 2.1/Jericho Shorty Episode "A Pair of Ragged Claws"/Open Wide Neil
2006 - Mayo Dr. Rossi Episode 1.1 That Mitchell and Webb Look Simon Various characters
2006-2007 Hyperdrive Space Marshal Clarke Appeared in seven episodes
2007 Jekyll Benjamin Maddox Appeared in four episodes Chop Socky Chooks KO Joe
2008-2010 Survivors Greg Peston Main character throughout series
2009 The No1 Ladies' Detective Agency Cephas Buthelezi Episode 5 "Beauty and Integrity"/Boy Meets Girl Jay Metcalfe
Community content is available under
CC-BY-SA
unless otherwise noted.