This article is written from the real world point of view.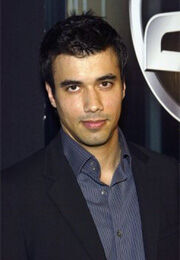 Phillip Rhys (June 14, 1974 in London, England, United Kingdom) is an English actor who grew up in South London. He was born the second of three boys and went to St. Joseph's College, Upper Norwood for his Secondary Education. After graduating from Westminster College he spent a year living and working in Paris. He then returned to London to study acting at The Lee Strasberg Institute and later with Jeffrey Tambor and Milton Katselas at The Beverly Hills Playhouse in Los Angeles.
Rhys is well known to television audiences for his recurring roles on Nip/Tuck and 24. On Nip/Tuck, Rhys played Jude, a handsome student who became infatuated with Julia McNamara (Joely Richardson) and came to represent for her things that she couldn't have. On 24, in season two, Rhys played Reza Naiyeer, a middle eastern-British business man, framed by his fiancee for the terrorist plot she was involved in. Rhys received a Screen Actors Guild Ensemble Nomination for the role.
Rhys spent nine months in Shanghai, China shooting Flatland with Dennis Hopper and produced by Academy Award winner Al Ruddy (Million Dollar Baby and The Godfather). Flatland was the first US Television show to be shot entirely in Mainland China. Other credits include: Rodrigo García's Fathers and Sons with Ron Eldard, the war drama Woundings with Ray Winstone and Guy Pearce and the Sundance Film Festival entry Kill the Man with Luke Wilson.
To younger audiences Phillip is best known for his portrayal of intergalactic rock star, Proto Zoa in two of the three Zenon Disney Channel movies: Zenon and Zenon The Zequel where he performed "The Galaxy is Ours."
Plays include: August Strindberg's Miss Julie, London. John Patrick Shanley's The Dreamer Examines his Pillow, Los Angeles, John Buchanan Jr. in Tennessee Williams' Summer and Smoke and Dario Fo's satire The Devil with Boobs. Rhys received a Drama-Logue Award for his performance in Come Back to the Five and Dime, Jimmy Dean, Jimmy Dean.
In 2009 Phillip starred in the BBC post apocalyptic drama series Survivors. Upcoming projects include Salomaybe? directed by and starring Academy Award winner, Al Pacino, The Adventures of Tintin: The Secret of the Unicorn directed by Steven Spielberg and The Space Between with Academy Award nominee, Melissa Leo.
External Links
[
]