| | | | | | |
| --- | --- | --- | --- | --- | --- |
| 1.05 | "Episode 5" | Iain B. MacDonald | Adrian Hodges | 16 December 2008 | 5.62 |
Suspicions are aroused when visionary spiritual leader John turns up mysteriously at the community's door with his ragged group of disciples. When Abby allows Linda, a pregnant woman from John's group, to stay with them until the baby is born, Anya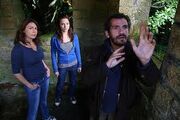 fears that she will be forced to reveal that she is a doctor. After facing her personal demons, particularly over the death of Jenny Collins, she goes on to successfully deliver a breech birth. She becomes concerned for the group's safety after John becomes increasingly erratic. John proves to be a paranoid schizophrenic. In the research facility, the scientists there discover Abby's video message and find out she contracted the virus but still survived.
Community content is available under
CC-BY-SA
unless otherwise noted.