| # | Title | Director | Writer | Original airdate | Ratings (millions) |
| --- | --- | --- | --- | --- | --- |
| 1.01 | "Episode 1" (90-minute episode) | John Alexander | Adrian Hodges | 23 November 2008 | 6.97 |
"I mean of all the terrible pieces of traffic!" "I'm sorry. Would you like my insurance details?"
Within just a few scenes we see the main characters experience all of civilization come to a stop in the form of the electronic media going off air, the electricity shutting off, and all public services ceasing. When Al Sadiq, Greg Preston, Najid Hanif and Tom Price wake up, they find everyone around them is dead and struggle to find any other survivors.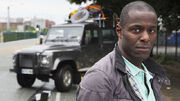 Abby wakes up from her illness, to find that her husband David did not survive and searches the country for her missing son Peter. Eventually, the characters meet and realise they are going to have to stick together to survive. As the "European Flu" virus spreads throughout the world, governments realise the scale of the problem. After a few days of the virus spreading, people fall ill, including Abby Grant, Jenny Collins and her friend Patricia.
The Government Minister in charge of the pandemic is told that at least 90% of the world's population will die but it slowly becomes apparent that the situation is a lot worse than that as the virus is extremely virulent, and completely unstoppable except to the almost infinitesimal remnants of humanity who're either naturally immune or have caught the virus and recovered.