(One intermediate revision by one other user not shown)
Line 8:
Line 8:
 

| style="border-top-width: 1px; border-right-width: 1px; border-bottom-width: 1px; border-left-width: 1px; border-top-color: rgb(170, 170, 170); border-right-color: rgb(170, 170, 170); border-bottom-color: rgb(170, 170, 170); border-left-color: rgb(170, 170, 170); border-top-style: solid; border-right-style: solid; border-bottom-style: solid; border-left-style: solid; padding-top: 0.2em; padding-right: 0.2em; padding-bottom: 0.2em; padding-left: 0.2em; "|5.22

 

| style="border-top-width: 1px; border-right-width: 1px; border-bottom-width: 1px; border-left-width: 1px; border-top-color: rgb(170, 170, 170); border-right-color: rgb(170, 170, 170); border-bottom-color: rgb(170, 170, 170); border-left-color: rgb(170, 170, 170); border-top-style: solid; border-right-style: solid; border-bottom-style: solid; border-left-style: solid; padding-top: 0.2em; padding-right: 0.2em; padding-bottom: 0.2em; padding-left: 0.2em; "|5.22

 

|}

 

|}

−

Greg and Tom see a helicopter flying over and they also encounter an uninfected family who have been isolated since the onset of the virus but when the family's daughter reaches out to them, they risk infecting them. Abby encounters Samantha Willis, the last surviving government minister, who is now in charge of a fledgling community that has hot water, food, light, and power. Initially, the two women bond, but Abby is appalled when she sees the lengths that Samantha will go to, if she thinks her community is endangered. In a research lab, scientists are trying to develop a vaccine for the virus.

+

Greg and Tom see a helicopter flying over and they also encounter an uninfected family who have been isolated since the onset of the virus but when the family's daughter reaches out to them, they risk them. Abby encounters Samantha Willis, the last surviving government minister, who is now in charge of a fledgling community that has hot water, food, light, and power. Initially, the two women bond, but Abby is appalled when she sees the lengths that Samantha will go to, if she thinks her community is endangered. In a research lab, scientists are trying to develop a vaccine for the virus.

 
 
 

{|class="browser"

 

{|class="browser"

Line 16:
Line 16:
 

{{Series 1 Episodes}}

 

{{Series 1 Episodes}}

 

[[Category:Series 1 Episodes]]

 

[[Category:Series 1 Episodes]]

 
+

[[Category:Episodes]]
---
Latest revision as of 15:01, 21 May 2011
| | | | | | |
| --- | --- | --- | --- | --- | --- |
| 1.03 | "Episode 3" | Andrew Gunn | Gaby Chiappe | 2 December 2008 | 5.22 |
Greg and Tom see a helicopter flying over and they also encounter an uninfected family who have been isolated since the onset of the virus but when the family's daughter reaches out to them, they risk infe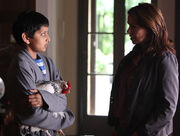 cting them. Abby encounters Samantha Willis, the last surviving government minister, who is now in charge of a fledgling community that has hot water, food, light, and power. Initially, the two women bond, but Abby is appalled when she sees the lengths that Samantha will go to, if she thinks her community is endangered. In a research lab, scientists are trying to develop a vaccine for the virus.
Community content is available under
CC-BY-SA
unless otherwise noted.