| | | | | | |
| --- | --- | --- | --- | --- | --- |
| 2.03 | "Episode 3" | David Evans | Simon Tyrrell | 2 February 2010 | 3.89 (overnight) |
"Tom Price has been arrested for the murder of Gavin Wilson, and goes on trial tommorow"
Escaping back to the country the Family run in to trouble when they ambushed by men from Samantha Willis group who kidnap Tom to stand trial for previous crimes. Deciding to return to Samanatha's compound Abby must not only defend Tom but also face the mini dictatorship that Willis has set up in th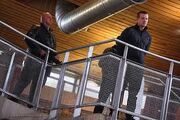 e Family's absence. Shocking secrets of Tom's past are revealed in this episode: He was done for murdering security guards. Dexter is killed by Tom because Tom is sent by Samantha. Tom and Greg are taken by a horrible leader who makes men dig for coal.
Community content is available under
CC-BY-SA
unless otherwise noted.