Line 24:
Line 24:
 

====Major Cast====

 

====Major Cast====

 
 
−

*Carolyn Seymour as Abby Grant (ep. 1-13)

+

*Carolyn Seymour as Abby Grant (ep. 1-13)

−

*Ian McCulloch as Greg Preston (ep. 2-13)

+

*Ian McCulloch as Greg Preston (ep. 2-13)

 

*Lucy Fleming as Jenny Richards (ep. 1-13)

 

*Lucy Fleming as Jenny Richards (ep. 1-13)

 

*Terry Scully as Vic Thatcher (ep. 2, ep. 8-10)

 

*Terry Scully as Vic Thatcher (ep. 2, ep. 8-10)

Line 35:
Line 35:
 

*Michael Gover as Arthur Russell (ep. 8-13)

 

*Michael Gover as Arthur Russell (ep. 8-13)

 

*Eileen Helsby as Charmian Wentworth (ep. 8-13)

 

*Eileen Helsby as Charmian Wentworth (ep. 8-13)

−

*Talfryn Thomas as Tom Price (ep. 1-3, ep. 7-10)

+

*Talfryn Thomas as Tom Price (ep. 1-3, ep. 7-10)

 

*Julie Neubert as Wendy (ep. 7-9)

 

*Julie Neubert as Wendy (ep. 7-9)

 

*John Hallet as Barney (ep. 7-9)

 

*John Hallet as Barney (ep. 7-9)

Line 48:
Line 48:
 
 
 

*Denis Lill as Charles Vaughan (ep. 1-13)

 

*Denis Lill as Charles Vaughan (ep. 1-13)

−

*Ian McCulloch as Greg Preston (ep. 1-8, ep. 11-13)

+

*Ian McCulloch as Greg Preston (ep. 1-8, ep. 11-13)

 

*Celia Gregory as Ruth Anderson (ep. 1-6, ep. 8, ep. 10-13)

 

*Celia Gregory as Ruth Anderson (ep. 1-6, ep. 8, ep. 10-13)

 

*Lorna Lewis as Pet Simpson (ep. 1-2, ep. 5-13)

 

*Lorna Lewis as Pet Simpson (ep. 1-2, ep. 5-13)

Line 74:
Line 74:
 

*Denis Lill as Charles Vaughan (ep.1, 3-9, 11-12)

 

*Denis Lill as Charles Vaughan (ep.1, 3-9, 11-12)

 

*Lucy Fleming as Jenny Richards (ep.1-3, 5-9, 11-12)

 

*Lucy Fleming as Jenny Richards (ep.1-3, 5-9, 11-12)

−

*Ian McCulloch as Greg Preston (ep.2, ep.10)

+

*Ian McCulloch as Greg Preston (ep.2, ep.10)

 

*John Abineri as Hubert Goss (ep.1, 3, 5-9, 11-12)

 

*John Abineri as Hubert Goss (ep.1, 3, 5-9, 11-12)

 

*Gordon Salkilld as Jack Wood (ep.1, ep.6, ep.10)

 

*Gordon Salkilld as Jack Wood (ep.1, ep.6, ep.10)
---
Latest revision as of 17:36, 30 March 2010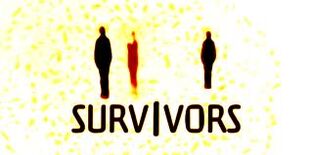 Survivors is a British post-apocalyptic fiction television series devised by Terry Nation and produced by Terence Dudley at the BBC from 1975 to 1977. It concerns the plight of a group of people who have survived an accidentally released plague that kills nearly the entire population of the planet.
The programme ran for three series and 38 episodes and was broadcast on BBC 1 from April 1975 to June 1977. Popular writer Terry Nation (whose work included many scripts for Doctor Who) created the series, but he quit the show after the first series due to disputes with producer Terence Dudley.
The series' main actors included Carolyn Seymour, Lucy Fleming, Ian McCulloch and Denis Lill. Child actors, Stephen Dudley (John) was given his part by his father, the show's producer Terence Dudley, while Tanya Ronder (Lizzie) is the daughter of Jack Ronder, who wrote eight episodes of Survivors. Notable guest stars in the series included Patrick Troughton, Peter Jeffrey, Brian Blessed, George Baker, Philip Madoc, Bryan Pringle, Iain Cuthbertson and Peter Bowles. Appearing in the series before becoming famous were Robert Fyfe (Last of the Summer Wine), Denis Lawson (Star Wars), David Neilson (Coronation Street), Peter Duncan (Blue Peter), June Brown (EastEnders), David Troughton son of Patrick Troughton, and Roger Lloyd-Pack (Only Fools and Horses and The Vicar of Dibley).
In a High Court of Justice case in the mid-1970s, which was abandoned by both sides due to escalating costs, writer Brian Clemens claimed that he had told Terry Nation the concept for the series in the late 1960s and had registered the idea with the Writers' Guild of Great Britain in 1965.[1] Nation strenuously denied this.
A BBC Four documentary entitled The Cult of... Survivors, featuring interviews with actors Lucy Fleming, Ian McCulloch and Carolyn Seymour, director Pennant Roberts and scriptwriter Martin Worth, was broadcast on 5 December 2006, as part of the channel's Science Fiction Britannia series. The Cult of... series also included documentaries on Blake's 7 (a series devised by Terry Nation), and Doomwatch (which was produced by Terence Dudley).
The majority of the locations for all three series of Survivors were in the Welsh Marches, the counties of Monmouthshire, Shropshire, Powys with, for the first two series, the characters most often seen in Herefordshire. The first episode of series 1 (The Fourth Horseman) featured several locations in Worcestershire, including Great Malvern railway station. Later episodes had the characters move around Herefordshire, from places like Ross-on-Wye to Welsh Newton Common. Llanarth Court in Monmouthshire was also featured. Towards the end of the first series, the action moved to a more permanent base at Hampton Court, again in Herefordshire. (This was the property referred to as "The Grange" by the characters.)
For the beginning of series 2 the focus moved to a new location, at Callow Hill Farm, near Monmouth (but again just within Herefordshire), as "Whitecross". The Lights of London' episodes featured Hanwell railway station, The Oval, and other locations in London, while the Waterloo & City line and the Camden Town deep-level shelter were used to represent parts of the London Underground. The Monmouthshire and Brecon Canal and village of Skenfrith also made appearances.
During series 3, production occasionally moved further afield to Suffolk, Derbyshire and Wiltshire, with the last episode filmed in the Scottish Highlands.
As the world's population is almost annihilated by a mysterious pandemic, accidentally unleashed by an unknown Asian scientist, the crisis is first seen through the eyes of two characters - Jenny Richards, a young working woman in London and Abby Grant, a middle-class corporate wife living a privileged existence in a nearby commuter village. As Abby goes in search of her son Peter, Jenny wanders aimlessly through the countryside. Other major characters introduced in the first few episodes are the resourceful engineer Greg Preston, the shifty Welshman Tom Price and two children, John Millon and Lizzie Willoughby. Abby, Jenny and Greg eventually come together and realise they must start again from scratch now that civilisation as they once knew it has been destroyed. After several adventures on the road, they find a property called the Grange which they can use as a base and, joined by other survivors, they form a potted community of disparate individuals all united by a shared purpose - to relearn the old skills of farming and tool-making, and to try to live in this strange new world.
Having received word that her son is still alive, Abby has left the Grange to resume her search while the community is devastated by a fire, killing several of their number. The survivors join another community, Whitecross, run by Charles Vaughan, whom they briefly encountered in the previous series. New major characters that make up the Whitecross band are Charles' partner Pet Simpson, medical student Ruth Anderson who works as a travelling doctor and farmyard labourer Hubert Goss. Jenny gives birth to Paul, her child with Greg, while the survivors are once more focused on the everyday practicalities of post-Death life. Frequent visitors to Whitecross, both friendly and hostile, act as catalysts for various dramatic situations. Finally, the arrival of Norwegian survivors brings the possibility of re-establishing worldwide contact and technology. To achieve this, Greg departs Whitecross in a hot air balloon bound for Norway.
Having received word that Greg has returned from Norway, Charles, Jenny and Hubert set out on horseback to find him. It is a journey that will take them right across what is left of the United Kingdom as their search leads them to various dead ends. However, they meet a broad spectrum of other survivors along the way, and the series continues to explore alternative reactions to the Death and what it takes to survive. The third series juxtaposes the more personal story arc of the search for Greg with a wider narrative of society appearing to establish itself again with federated communities, market bartering and rudimentary railway travel. This culminates in the tentative return of law and order and the quest to restore power through hydroelectricity.
[edit] Books Two novels have been published: Survivors by Terry Nation is an adaptation of certain series one episodes, with a radically different ending. Genesis of a Hero by John Eyers is a direct sequel to the first book, which bears no relation to events in series two and three.
Two factual books about the series have been published: The Making of Terry Nation's Survivors, edited by Kevin P Marshall, was published by Fourth Horseman Publications in 1995. The End of the World? The Unofficial and Unauthorised Guide to Survivors (ISBN 978-1845830014) by Rich Cross and Andy Priestner was published by Telos Publishing Ltd. in December 2005.
The complete series of Survivors is available on DVD (Region 2, UK), released by the BBC company 2 Entertain on 24 November 2008.
The three series were earlier released individually during the mid-2000s by DD Home Entertainment. These included a colour booklet written and researched by Survivors fan Andy Priestner chronicling the making of each series.
Community content is available under
CC-BY-SA
unless otherwise noted.