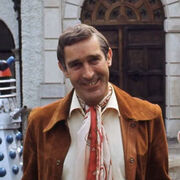 Terry Nation (8 August 1930 – 9 March 1997) was a Welsh novelist and screenwriter wrote the book based on Survivors. He also created the Daleks from Doctor Who, he created Blake's 7 and the Survivors in the 1970s.
Nation suffered ill health in his later years, and died from emphysema in Los Angeles on 9 March 1997. Shortly before his death he was working on another revival attempt of Blake's 7 with Paul Darrow (who played Avon in the original series).
External Links
Edit
Community content is available under
CC-BY-SA
unless otherwise noted.