Background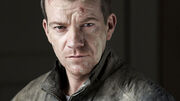 Tom Price is a toughened criminal who is fearless and strong, As such he is able to kill without remorse. Largely through his relationship with Anya, becomes quite loyal to the group. He is not a conventional team player as he is always willing to fight to ensure his comfortable place within it. Throughout the series, it has been hinted that he may have had a previous military background, which possibly may have had direct or indirect connections to his incarceration.
Series One
Tom was serving a sentence of at least twenty years for murder in HM Prison Wandsworth when the virus struck. He and the rest of the prisoners were isolated in their cellsunder orders from the Prison Governor, to try to prevent the virus spreading, but it was no good. Eventually he found himself alone with the last surviving prison officer, Gary Wilson; the other prisoners and prison officers, along with prison physician Dr. Colin Thompson (and, presumably, the briefly-mentioned but unseen Prison Governor), having all died. In spite of the fact that prison rules and regulations now no longer applied, Wilson refused to release Tom who, as far as he was concerned, was still a prisoner of Her Majesty's Government. Gary resented the fact that Tom had survived the virus, and was determined to do his duty and ensure that his prisoner served the remainder of his sentence. Tom escaped after killing Gary and made his way home, only to discover that his mother had died from the virus.
Series Two
Tom is as ruthless and unpredictable as before. In Episode 1 he finds himself the leader of the Survivors in the city, faced with the seemingly insurmountable problem of rescuing his friends from a collapsed building. As the series progresses, he clashes with Greg as his past crimes and violent tendencies are questioned, culminating in his trial by Samantha. Throughout it all, Tom keeps one eye on an exit, and the other on Anya, hoping he can gain her affection.
Max Beesley
Community content is available under
CC-BY-SA
unless otherwise noted.